It's all about the tips and tricks of how to set up a shop in ChannelPilot and to make sure you will get the most out of the functionalities within our solution. If you are not yet a ChannelPilot user, this blogpost can give you an idea of the different possibilities when using ChannelPilot. Okay, enough with the chitchat – let's get straight to the first part of the Best Practice series!
To start, we will focus on product title optimisation. Optimisations allow for merchants to create offerings that are more prominent and profitable on different channels. In the following pictures we will show a fictional webshop from the fashion sector to illustrate some examples. Of course, the examples can also be applied to other industries.
Under the "Start" section of our solution, it is possible to create new groups so that you can organize the various optimisations based on certain specified themes.
Select "Shop Manager" followed by "Data Field Mapping" from the banner. At the bottom of the page, select "Create New Page" and assign a name. At this point, a new group will be created. We called it, "Kelkoo".
After creating a new group, it is time to create business rules and functions. Select "Apply custom datafield" to identify the various ways in which we can create a formula. In this example, we will create a formula using the "If-Then Wizard". After clicking on this option, assign a name to the field. We are calling this "1 Kelkoo Title Optimisation – Colour".
Now, in this particular scenario, we want to make sure that the colour is included in the title. We have already mapped the colour and title into ChannelPilot. However, the colour might be missing from the mapped attribute, "Colour", and / or already exists in the title found in the attribute "Product name".
Consequently, we have created an If-Then Wizard formula to generate titles that contain colours. We achieve this by mapping "Colour" and "Product name" in the wizard. The formula we put in place specifies that if "Colour" is not empty and "Product name" does not contain "Colour", that the title should read "Product name" + " – " + "Colour". Otherwise, it should simply be "Product name".
By adding a new field which we call "2 Kelkoo Title Optimisation – Size", we want to make sure that the size will also be included in the same title along with the colour. Therefore we repeat the formula by specifying that if the size is not empty and "1 Kelkoo Title Optimisation – Colour" does not contain size either, that the title should read "1 Kelkoo Title Optimisation – Colour" + " – " + "Size". Otherwise, it should stay "1 Kelkoo Title Optimisation – Colour".
The same can be done for adding the brand of the product. We add another new field called "3 Kelkoo Title Optimisation: Colour-Size-Brand" and repeat the same steps. We specify that if brand is not empty and "2 Kelkoo Title Optimisation – Size" does not contain the brand either, that the title should read "Brand" + "-" + "2 Kelkoo Title Optimisation – Size". Otherwise it should stay "2 Kelkoo Title Optimisation – Size".
Structuring the title optimisation this way gives you three advantages:
First, you don't need to copy the initial formula (if color not empty…) endlessly and consider all combinations of attribute with empty and not empty. Instead, simply copy the finished product and add an attribute.
Second, a gradual title optimisation is much clearer. You can easily see which information is combined with each other.
Thirdly, titles optimised in this way have the advantage that they can be easily transferred to different channels. For example; if a channel needs a product title without brand information, you pass the second data field, level number 2 in our example, which means you do not need to create a new product title. In this case, we don't use a data field from the feed, but simply a field from the own data fields of the product title optimisation.
In addition, what also can be added and is very worthwhile in the context of keyword enhancement are synonyms – such as jeans and trousers. This information does not have to be included in the masterfeed. You can simply create new data fields in ChannelPilot to map this information:
This can also be used very well for plural/singular categories (example: Shoulderbag – Shoulderbags) and this can also be combined with synonyms for example. This way you wouldn't have to create an extra mapping if you wanted to have both synonyms and the plural variant. You can also map colors (color sahara becomes beige, because beige is certainly more often searched for) or gender (e.g. Gents to Men).
Our final tip is: For control and analysis, it is always worth using the title with the most information in order to obtain the most comprehensive data, especially for product data optimisation.
Thank you and make sure you regularly check our blog for new blogposts on the best practice series!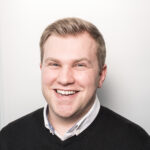 Ben has been working as International Marketing Manager at Channel Pilot Solutions since 2016. He mainly takes care of the organization of on/offline events and website related topics.