With this filter, products that generate clicks but do not convert to sales, are automatically excluded. The main reason behind this is because the desired size is not available on the website and most customers do not filter their search based on the size that they are after.
As an example, a company may offer a garment that the end-user finds on a comparison shopping engine. The end-user clicks on the ad and is directed to the product page. After noticing that the product is not available in the desired size, the end-user leaves the website and the transition does not take place. This results in a wasted click, which incurred marketing costs.
This can be avoided by applying a filter in Channel Pilot, whereby products that meet a pre-defined rule will be excluded from the feed, allowing for marketing spend to be used for those products with sizes that have a more successful rate in converting.
To create the filter, first go to the menu item "Shop Manager" in ChannelPilot and select "Set Up Filter". Click on "Add filter" and select "Create custom filter" to create the rule based on your existing data. Please note that all product sizes should be made available in your product feed.
In the following example, we have created a filter for you that illustrates an example of a size rule:
In the first step, we will use the data fields that we have created in part 1 of this blog series in relation to product title optimisation. Using this as a basis, we can build the filter rule based on the available sizes of the products.
In this example, we receive stock and available size date from the feed. The product size data is separated by a comma. ChannelPilot uses the number of commas to determine how many different sizes are available in the feed. Three sizes are separated by two commas (S, L, XL) and two sizes are separated by one comma (8, 10). This way, products can be listed based on how many sizes are available. In this case three different sizes have stock. Other products with a lower stock levels are excluded accordingly and no longer used in this campaign. This lowers the number of wasted click, thereby reducing costs.
This simple rule provides the basis for further action. The next step is to take a closer look at the company's product data feed. Certain items that are only available in one size ("One Size"), such as some watches or hats, should be excluded from this rule (see first line in screenshot). In this example we also excluded products under the category "Shoes" that have three or fewer available sizes (see line 2,3 in screenshot). We have adjusted our formula accordingly so that at least four sizes (three commas) must be available for this campaign.
In the next lines we would like to add exceptions for the most common sizes for both women and men (see line 4, 9 in the screenshot). As a result, products with at least one of the most popular sizes for women (S, M, 8, 10) and men (M, L, 38, 40) will still be listed, despite there only being two sizes that are available.
By using "Custom Labels" we can extend this simple rule with a point system.
This will be explained in the next post of this series.
Stay tuned for new posts, as we prepare more interesting content for you. And if you have any further questions, don't hesitate to contact us. We are more than happy to help!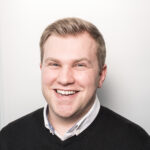 Ben has been working as International Marketing Manager at Channel Pilot Solutions since 2016. He mainly takes care of the organization of on/offline events and website related topics.