In the picture below, we have created a separate data field "Colour". To the right of the input field, you can now see the complete formulas of the tool under "Show all functions". All information, such as a detailed description and a concrete example of the individual functions are displayed as well. After you have found the desired formula, you can simply select and use it by clicking on it.
Likewise, the Autocomplete preview of each function, after you type the first letter of the formula, is new as well. ChannelPilot shows you all available formulas for this letter in a drop down window. For example, if you type in an 'r' as shown in the following screenshot, Channel Pilot will show you all the available formulas for this letter.
This counts for the self-defined formula parameters as well, as shown in the following screenshot regarding the parameter "colour".
In addition, you will find a usage overview for each data field and filter. The usage overview shows you all the links of the field in the entire system. If you click on such a link, you will directly be taken to the corresponding data field or channel.
Furthermore, you can directly create and edit new data fields in the export adjustments of a channel. When you hover the mouse over a data field, two new symbols appear, a plus sign in which a new own data field can be created, and a pen with which an existing data field can be edited. Both of these functions can be used throughout the system.
If you have any further questions about the new formula preview and usage overview, feel free to contact us at: support@channelpilot.co.uk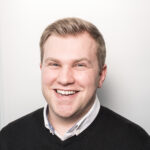 Ben has been working as International Marketing Manager at Channel Pilot Solutions since 2016. He mainly takes care of the organization of on/offline events and website related topics.