First of all, Amazon has established performance targets for merchants to ensure that consumers can purchase products from third parties in a secure and safe manner. These metrics include:
Order defect rate <1% (ODR)
ODR is a percentage of three factors: negative feedback, A-to-Z Guarantee claims and service credit card chargeback (buyer disputes charges to their credit card).
Pre-fulfilment cancel rate <2.5%
Pre-fulfilment cancellation rate: number of orders cancelled by merchant prior to shipment / number of orders in the same time period.
Late shipment rate <4%
Late shipment rate: number orders with confirmed shipments by the expected ship date / number of orders in the same period.
Amazon notifies you, with a first warning when problems occur. You will have the opportunity to rectify this situation within 60 days thereafter.
Keeping up with Amazon's high standards has proven a challenge for online retailers, these are Channel Pilot's tips that will help you with successfully starting and maintaining to sell on Amazon.
Feedback Manager
Buyers often review feedback ratings during their shopping journey. Keeping a high feedback rating is important to remain successful on Amazon. Feedback is given to orders placed: arrived on time, item as described and customer service.

If the seller receives negative feedback, contact the buyer individually to resolve the problem within 90 days. After resolving the customer's concerns, within this period, request that the customer remove their feedback without pressuring them into doing this. This is applicable to customer feedback suspected to be made by mistake. In all instances, if the customer does not remove negative feedback, you may post a response.
Steps taken by our clients and ChannelPilot:
Mentioned how you have attempted to resolve the problems or measures you have taken to prevent it from occurring again.
Measures to ensure that their team is aware that falsifying reviews is strictly prohibited and that you should not include PII (personally identifiable information) data or abusive and inappropriate language within the review.
Avoid incorporating Amazon product reviews onto their website, as Amazon has ownership of this content.
Multiple Seller Accounts
Sellers are prohibited from operating and maintaining multiple accounts. Amazon does permit exceptions on a case-to-case basis here.
Arguments made by our clients with the assistance of Channel Pilot to be exempt:
Created separate bank account for each Seller or link your accounts through Amazon Global Selling.
Use separate email address per account.
Listing different products and services per account by applying filters and rules within Channel Pilot.
Identified measures to ensure that Performance Metrics are in good standing.
Find out more in next week's Part 2: Successfully start selling on Amazon.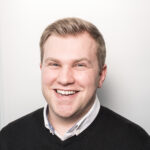 Ben has been working as International Marketing Manager at Channel Pilot Solutions since 2016. He mainly takes care of the organization of on/offline events and website related topics.