In the tab Control you will find the control modules next to the control centre. A control module is a configuration that we have saved from the control centre. The stored configuration contains a performance limit for a certain product range and for one or more channels.
In the overview you will find all active and inactive control modules. The grey marked fields are inactive while the orange marked fields are active. For example, you can create new groups and arrange your modules accordingly. We have saved the setting with the name "Clicks >50; Sales = 0" and thus created a module. ChannelPilot makes it easier for you to quickly access different performance limits. This saves you time and the need to reset the controls each time it is required.
If you click on the control module, you will see all the SKU's that have reached more than 50 clicks in the selected time period which have not generated any sales. If you intend to disable SKU's manually, you are able to select and deactivate them individually.
For more advanced settings, select the module "Clicks > 50; Sales = 0". Here you will find the selection for "Automatic export stop" found in the center of the platform, which is helpful if you don't want to monitor the modules manually, but want to automate them. If you wish, you can select this option and ChannelPilot will daily disable the affected SKU's on the channels. It is also possible to be notified by email on which SKU's have been disabled. Through the use of blue botton, "Load into the control center" you can preview the products that are affected at any given time. In addition, make sure to save the work by selecting the orange button, "Save control setting".
Additionally, ChannelPilot reactivates the affected SKU's after a certain time to see how they would perform again. In this example we will reactivate the affected SKU's on December 2nd.
Afterwards, you will find all products paused by ChannelPilot in the menu under "disabled articles". You can use this table to manually reactivate products and see if an item has an automatic reactivation. In the example below you can see that SKU's 75900 will be reactivated on December 2nd. This table filters and shows you the SKU's that have been disabled by a module by a given channel for a set period of time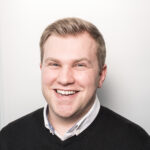 Ben has been working as International Marketing Manager at Channel Pilot Solutions since 2016. He mainly takes care of the organization of on/offline events and website related topics.