Looking for some new ways to increase impulse purchases for your ecommerce business? Then don't miss coming to Madrid on 29th and 30th of October! eShow Madrid will gather the experts of digital marketing in the Spanish capital and – of course – Channel Pilot Solutions is going to be on site as well.
Our ecommerce and marketplace specialist José Antonio Jiménez Bisbe will share his extensive ecommerce experience in a panel discussion about entrepreneurship and intra-entrepreneurship in the industry. His discussion partners will be Samuel Velázquez from Kelme, Pedro Latasa and José Luís Ferrero from VDShop, Aitor Guerra from Debuencafé, Beatriz Pizarro García from Grupo Lactalis and Alberto Abel Sesmero from Aliexpress. Don't miss out!
The discussion "Emprender e intra-emprender en ecommerce: aciertos, errores y aprendizajes" will take place at the Marketplace Circus from 16:15 to 17:00 on October 30th.
Get your free tickets here or contact our expert directly in order to find out more about the latest updates of ChannelPilot.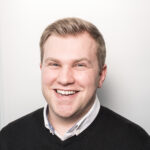 Ben has been working as International Marketing Manager at Channel Pilot Solutions since 2016. He mainly takes care of the organization of on/offline events and website related topics.