To put it simply: consumers tend to stay at home, do not travel and are increasingly asking for basic needs such as food, hygiene products, medicinal and nutritional supplements. Demand is dropping dramatically for luxury products, cosmetics, household and entertainment electronics, on the other hand, as a recent survey of Chinese customers shows.
It is to be expected that the same trend will be observed all over Europe over the next 4-8 weeks. As a result, some industries like pharmacies or online groceries will benefit in the short term and others will suffer.
However, the situation could change if public life comes to a standstill. If stores are closed and more people live in quarantine at home, demand for online retailing should pick up again and sales will increase – if the companies then still have enough capacity to deliver the goods.
In short, it makes sense to shift marketing budgets: reduce physical advertising (out of home, POS marketing, etc.), increase personalised direct advertising (especially on streaming platforms and social media). The customer stays at home – everything that makes a stay there safer and more pleasant brings more sales and, conversely, everything "unnecessary" is reduced or no demand is made.
The assortment planning should also be adjusted and products that could be in greater or lesser demand during a pandemic should be identified. On this basis, it should be checked whether delays can occur due to bottlenecks (e.g. due to means of production from China), so that forecasts can be made on this basis.
Today's supply chains are not designed for warehousing, but usually for just-in-time deliveries to avoid excess goods. Due to the increased demand for certain products, this can lead to bottlenecks. Therefore, everyone involved should now increase their supply chains (production, storage, and delivery capacities) and retailers should check their own for weak points. If necessary, replacement suppliers or substitute products should be requested.
A pandemic affects not only consumer behaviour, but also organisations within companies. In the USA, the Food Industry Association (FMI) has published an action plan for this, which can also be very interesting for retailers:
Merchants should identify which jobs are urgently needed to maintain business operations during a pandemic and which are not. According to the FMI, up to 40 percent of employees could fail due to illness. Therefore, an emergency filling of the most important positions should be resorted to.


Determine who takes important decisions if executives fall out


Set up communication channels for emergencies


Adjust hygiene plans and ensure that the working environment is safe


Offer home office to reduce the risk of infection and to protect employees from potential infection


Avoid company meetings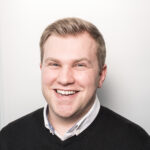 Ben has been working as International Marketing Manager at Channel Pilot Solutions since 2016. He mainly takes care of the organization of on/offline events and website related topics.